Johan Sverdrup - The Making of a Giant
Aker Solutions is helping Equinor put on stream one of the largest oil fields offshore Norway, which at its peak will provide an equivalent of 25 percent of all Norwegian petroleum production.
Johan Sverdrup - The Making of a Giant
The Johan Sverdrup field is located in the Utsira High area in the North Sea, 160 kilometers west of Stavanger at water depths of 110-120 meters. The 200 square kilometer reservoir was discovered in 2011 and holds estimated reserves of between 2.1-3.1 billion barrels of oil equivalents. Production is scheduled to start at the end of 2019. Daily production in the first phase is estimated at 440,000 barrels per day, and the field will produce for 50 years to come. At peak, production is estimated to reach 660,000 barrels daily. That's equal to 25 percent of Norway's current petroleum production.
Aker Solutions provided feasibility and concept studies for the Johan Sverdrup discovery in 2012-2013, supporting the partnership in developing a robust development concept. The company in late 2013 won a portfolio framework agreement from Equinor to provide engineering services, procurement and management assistance (EPMA) for the first phase of the development. The front end engineering design (FEED) was executed in 2014, engaging one of the largest FEED teams ever assembled by the company to detail out the four-platform field center concept.
Continuity of personnel and systematic knowledge transfer from the FEED phase was essential to ensure a seamless transition into the engineering, procurement and management assistance contract commencing early 2015. The project will at its peak involve around 1,200 of Aker Solutions' engineering resources.
For the EPMA phase, Aker Solutions is responsible for engineering and procurement for the process and riser platforms, while the living quarter and drilling platforms have been awarded as engineering, procurement and construction (EPC) contracts to other contractors. Aker Solutions also has the system responsibility for the overall field development.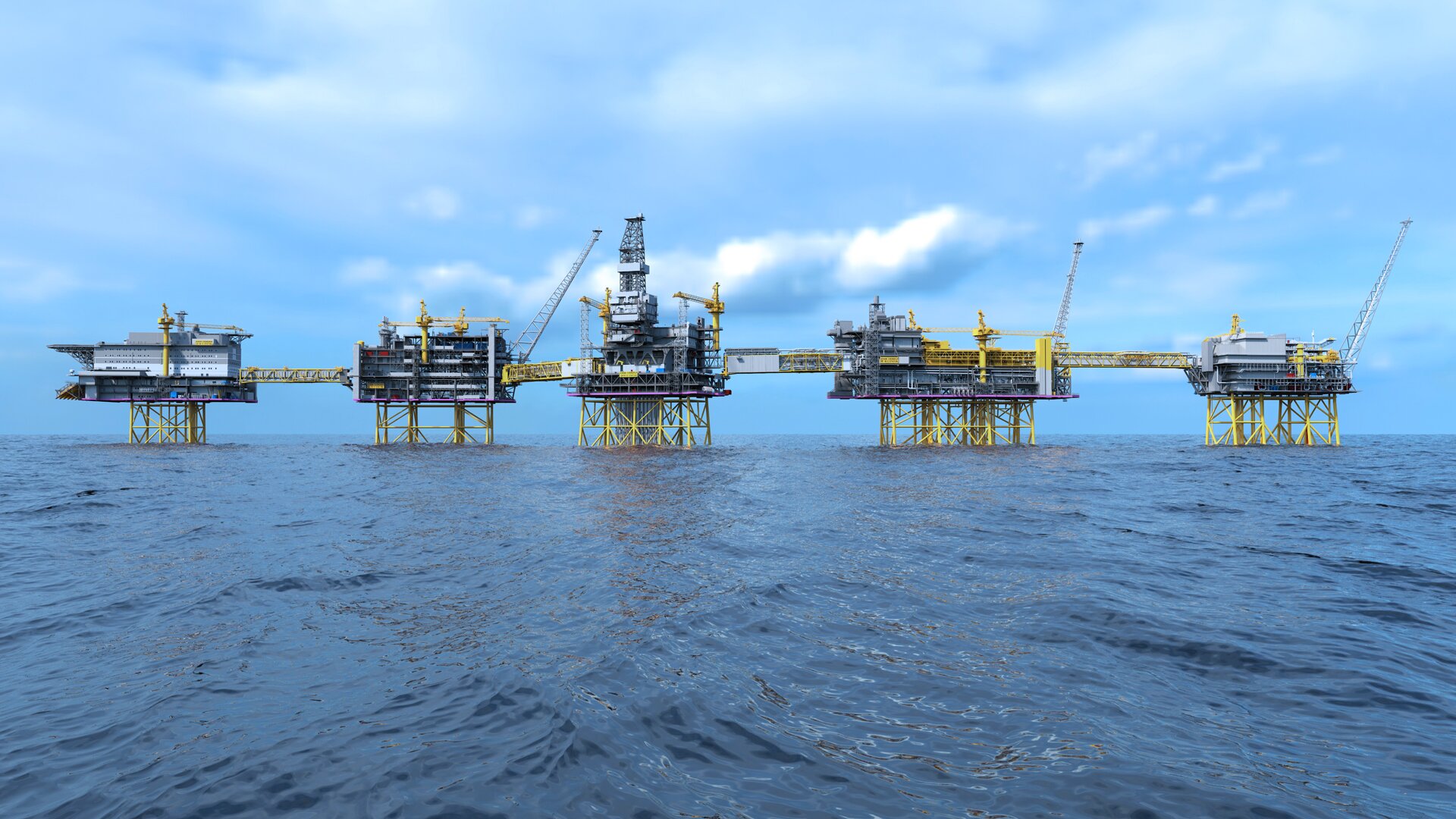 Johan Sverdrup field
The project takes advantage of a global work share model across Aker Solutions' engineering hubs in Oslo, London and Mumbai. A unique integrated delivery model allows for drawing on complementary capability, capacity and experience from all areas of the global organization. The Johan Sverdrup Academy is facilitating virtual teams to work aligned and efficiently together to secure a successful delivery.
A key project focus is to identify ways to reduce costs and improve overall efficiency of the Johan Sverdrup development. The project team is working closely with customer and suppliers to identify cost efficient solutions while safeguarding schedule, enabling the planned production startup in 2019. The project is implementing a targeted project improvement agenda aligned with Equinor's STEP program.
Due to Johan Sverdrup's size it will be developed in several phases. The first phase of the field center is expected to require 35 production and injection wells and includes a process platform, drilling platform, riser platform and accommodation platform with 450 cabins. The installations, which have steel jackets, are linked by bridges and will extend over about 700 meters. The field is developed with land-based power supply, which will reduce total climate gas emissions by 80-90 percent compared with a standard development procedure involving gas turbines offshore Norway. Oil and gas for export from Johan Sverdrup will be transported by pipeline to shore on the west coast of Norway. The oil will then be exported to the Mongstad terminal in Hordaland, while the gas will be transported via Statpipe to Kårstø in Rogaland.
Related Products and Services
Johan Sverdrup Project
Business Development
Based in Norway
Local time: 02:58 CEST